The Sole Supplier Explores Fashion in Web3 With BBRC Studios
[ad_1]

If you spend a lot of time on social media, we do not doubt that you already know a thing or two about NFTs. Non-fungible tokens have recently taken the world by storm, opening plenty of opportunities for artists to create unique work surrounded by avid collectors and buyers alike. NFTs are one-of-a-kind digital assets that show ownership of real-world items such as artwork, music, clothing, membership passes, and many more. It can be traded on online marketplaces such as OpenSea or X2Y2, allowing users to buy and sell NFTs anytime with data recorded on a blockchain to show authority and the transaction history.
In modern times, more global fashion brands have begun to dive into the NFT space to bridge the gap between physical and digital. PFP-based NFT projects became more prominent for individuals to take on new fashionable avatars that represent their identity online, such as Nike's Clone X collection with RTFKT and Takashi Murakami.
Notably, LA-based Web3 collective BBRC Studios founded by Mr Gentle Ape is the latest to grab headlines with its utility-enabled art collectibles showcasing 7,777 Ivy-styled characters drawn by Aaron Chang, menswear illustrator of New Balance Korea. So today, we here at The Sole Supplier & The Sole NFT sat down with co-founders Rodolfo Ramirez and Andrew Chang to explore fashion in the virtual landscape and to know more about the BBRC ecosystem, the IVY BOYS collection, plus more!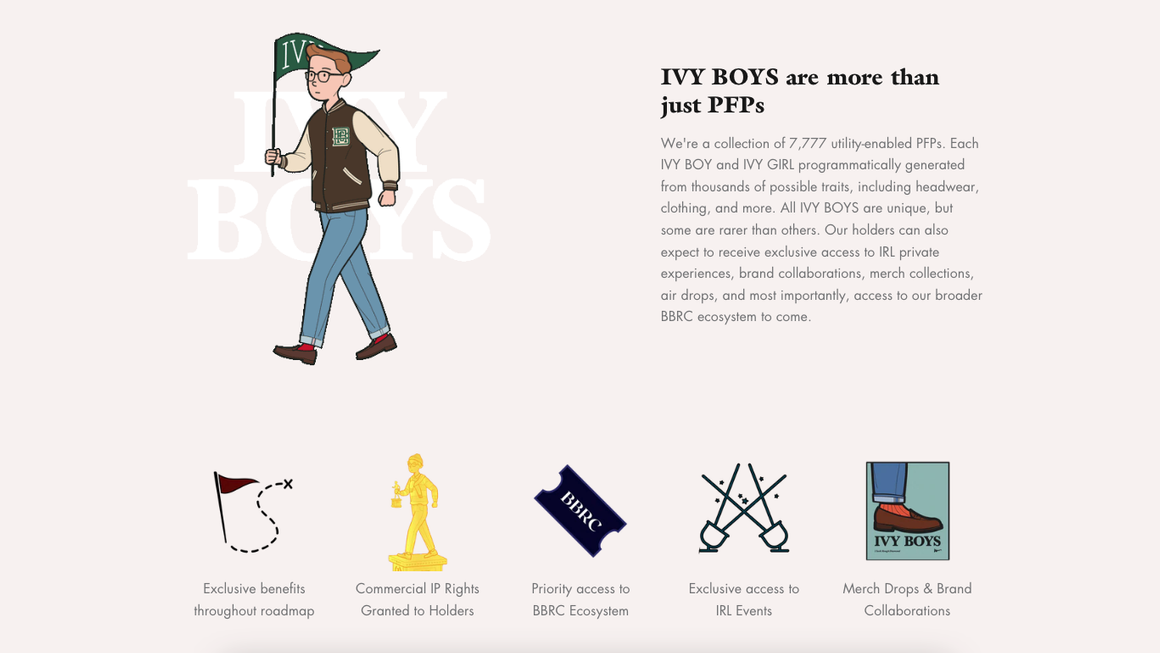 What exactly is BBRC Studios and who is the team behind it?
Rodolfo: "BBRC Studios is an incubator for art, fashion, and culture that will bridge the gap between Web2 and Web3. We aim to build a singular ecosystem that houses a collective of NFT projects and intellectual properties, each with unique identities, utilities, communities, and roadmaps that are all part of the greater BBRC roadmap.
Andrew: "Rodolfo and I are in Los Angeles, where we own and operate several apparel brands, including Pocket Square Clothing and many other manufacturing businesses. We have also been business partners together with Nelson for almost eight years. Together we have decades of experience in branding and design, manufacturing, and launching large-scaled fashion businesses on the Web2 side."
Rodolfo: "We also have @MrHaotoshi as our project director and is an advisor to various crypto and NFT projects. @Natinahat as our marketing director, @dinoax and @freemanzion in charge of our brand partnerships."
It's definitely great to work in a team with like-minded members! But who got you into NFTs to begin with?
Rodolfo: "Our founder Mr Gentle Ape started by trading as an investment opportunity and discovered how powerful community building was in the space. He built a team and brought Andrew and me on board as co-founders.
Andrew: "We deep-dived into the space and saw the mass potential as early adopters. We took that as an opportunity to become pioneers and bring legitimacy to a volatile landscape. Community building and brand development is our specialty, and we look to bring that value to the NFT space."
How would you describe your colleagues?
Andrew: "Our team is made up of not just dreamers but doers. We are a mix of creatives passionate about storytelling, branding, community building, and experienced fashion merchandisers. We are looking for the independents, the creators, the artists, the underrated, and the underserved. We are looking for those who dare to dream BIG and make things happen!"
Rodolfo: "Our Web2 team has vast experience in building brands, running large teams and opening stores/collaborations with high-level brands like NFL, Playboy, Disney, and GQ. On the Web3 side, we have teams of developers and visionaries who have successfully launched and sold out several notable NFT collections. They are experts in their own right within the Web3 community."
Andrew: "The chemistry is definitely there, as we all started as friends. We're very entrenched with how the Web3 space thinks, desires, and behaves. We have the resources and expertise to launch and manage global businesses that can quickly execute value-driven roadmaps."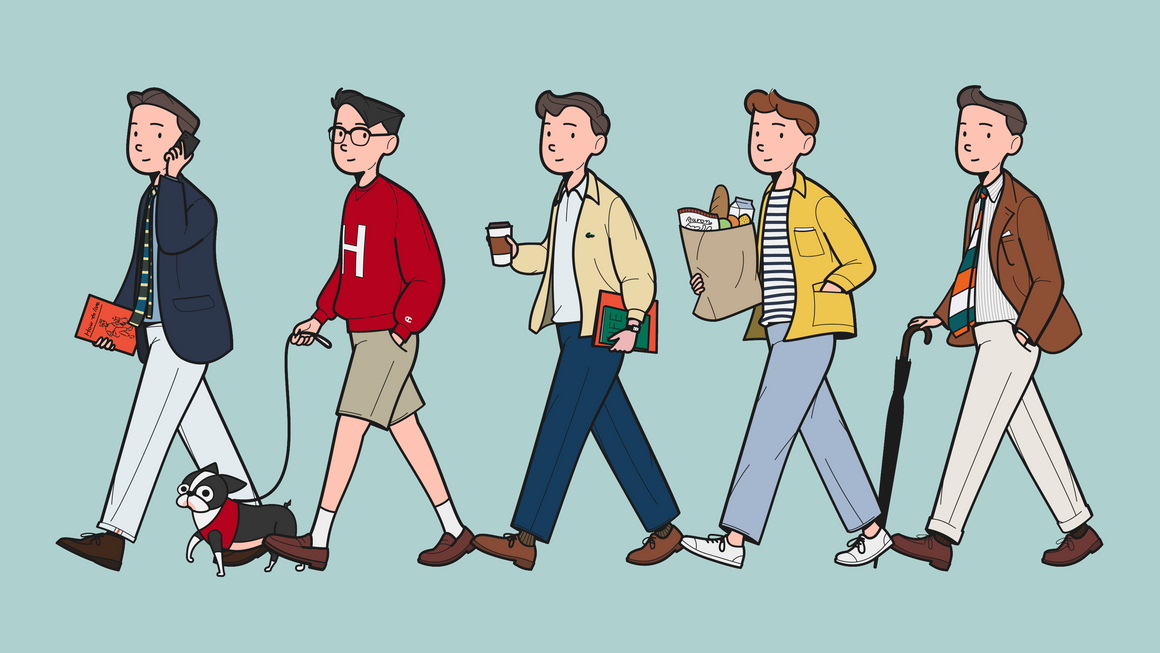 So if the team is primarily based in the US, how did you get Aaron Chang involved if he's all the way in South Korea?
Rodolfo: "Aaron's dream was to become a full-time illustrator. He saw the NFT space as an opportunity to dive into his love of creating art and sharing it with the rest of the world. We sought to help him realise his dream to build on that audience and collaborate with big-name brands to create within the Web3 space."



Andrew: "While in university, Aaron Chang took a deep interest in menswear fashion and Ivy league style while absorbing inspiration from Scott Schuman's blog The Sartorialist, Pitti Uomo, and books like Take Ivy. He transitioned from avid fan to photographer, to fashion influencer, and finally, his dream as an illustrator. His palette pulls inspiration from the beaches and sunset of his hometown, Busan, in South Korea. The BBRC x IVY BOYS project is his take on transitioning his art from the Web2 space and building his dream in the metaverse."
Rodolfo: "Our team resonated with his art style and fashion illustrations. We admired the world he spent three years building and looked to help him expand on his artistic vision. Many IVY BOYS NFT holders naturally resonated with his likeable and relatable art and have built a strong community around the brand."
Andrew: "Aaron is genuinely interested in fashion and currently serves as Design Director for New Balance South Korea and he's done quite a few personal collaborations with them already."
What is Ivy style and does anyone in the team wear it?
Andrew: "Aaron is a big fan of American fashion subculture Ivy League Style that started on college campuses at the beginning of the 1900s and gained popularity in the 1950s. It was the predecessor to the preppy style of dress."
Rodolfo: "Andrew, myself, and Mr Gentle Ape dabble in many styles. Since starting the project, I have been dressing more prep. During my time at the University of Southern California, I would remix streetwear and sneaker culture with Ivy style."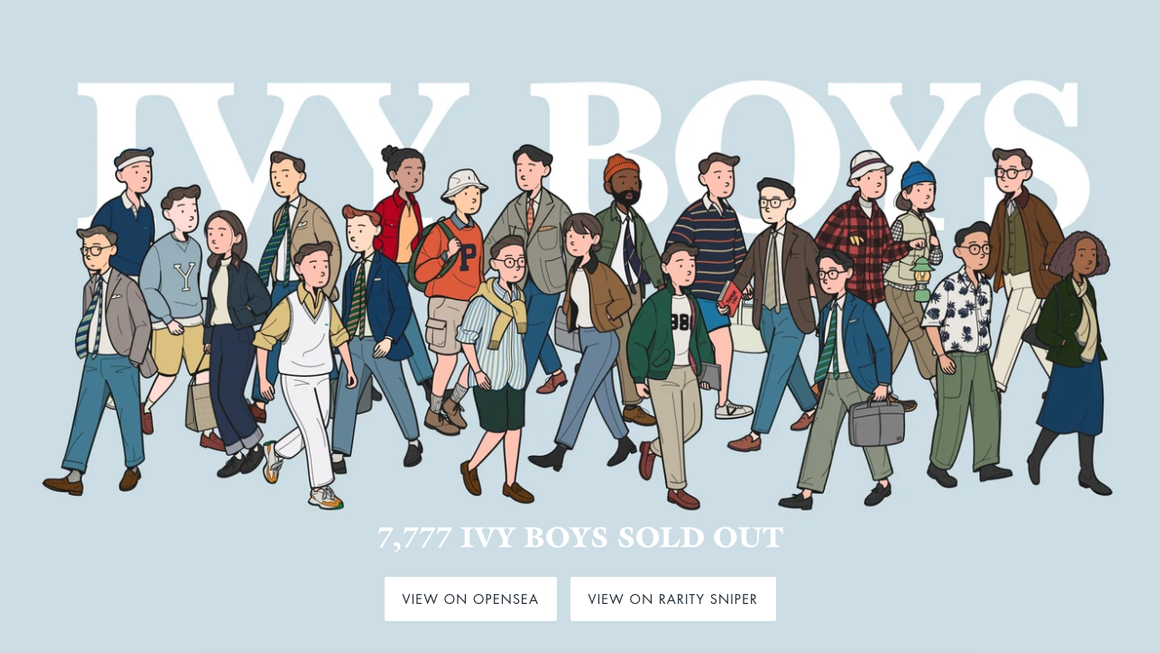 The BBRC x IYY BOYS collection saw massive success despite being in a bear market. What would you say were the most challenging obstacles for the team?
Andrew: "I think that selling out our collection at the top of the bear market speaks volumes of the type of community we have. Our concerns depended on the sentiments of our holders and the community during the bear market but we are blessed to have optimistic members with high conviction in the brand and community we are trying to build."
Rodolfo: "Any founder and holder of web3 projects will agree that the space moves fast and can change with any small current. We come from a fashion background where seasons exist for a reason. We went into this space wanting a solid roadmap and plan of execution. I think our community appreciates that we put our money where our mouth is and focus on delivering value from the get-go. We remain steadfast in our plans to execute something high value while remaining nimble enough to partner and pivot through market conditions. We have the perks of being able to rely on our manufacturing resources to develop projects and merch as we allow ample time for our brand partners to execute things within their 3-6 month lead times."
Congrats on selling out the collection on mint day! Not a lot of projects can do that in a bear market. Was this something the team already expected prior to launching?
Rodolfo: "Mint day is a very important date for NFT projects. It can make or break your project. It just so happens that we minted on one of the worst days in blockchain and Web3 history."
Andrew: "Minting out was an achievement by itself. What we continue to build during a bear market is just proof of our commitment to the future of this space. The team has been successful at building brands outside of NFTs, so we also look forward to being thought leaders in the future of the space."
What was the process of getting on the allowlist?
Andrew: "We focused a lot of our activities for the allowlist selection to be centred not only around the art but around themselves as individuals and how they related to the IVY BOYS and IVY GIRLS characters in real life. We did this by hosting fashion competitions, karaoke, art submissions, lifestyle activities, and much more."
Rodolfo: "As with any project we start, we are confident in our ability to execute whatever tasks we set for ourselves. We set out to build a solid global community, and I think we achieved that. We now look to continue building on the IVY BOYS Universe. Chapters 2 and 3 of IVY BOYS will expand further on that.
Andrew: "We were able to stand out because most PFPs on the market are fictional animals and mythical creatures, unlike ours. We wanted to capture the attention of people who like clean art style and also like clothing. Our community is keen to use our PFPs on their socials as a relatable and virtual representation of themselves."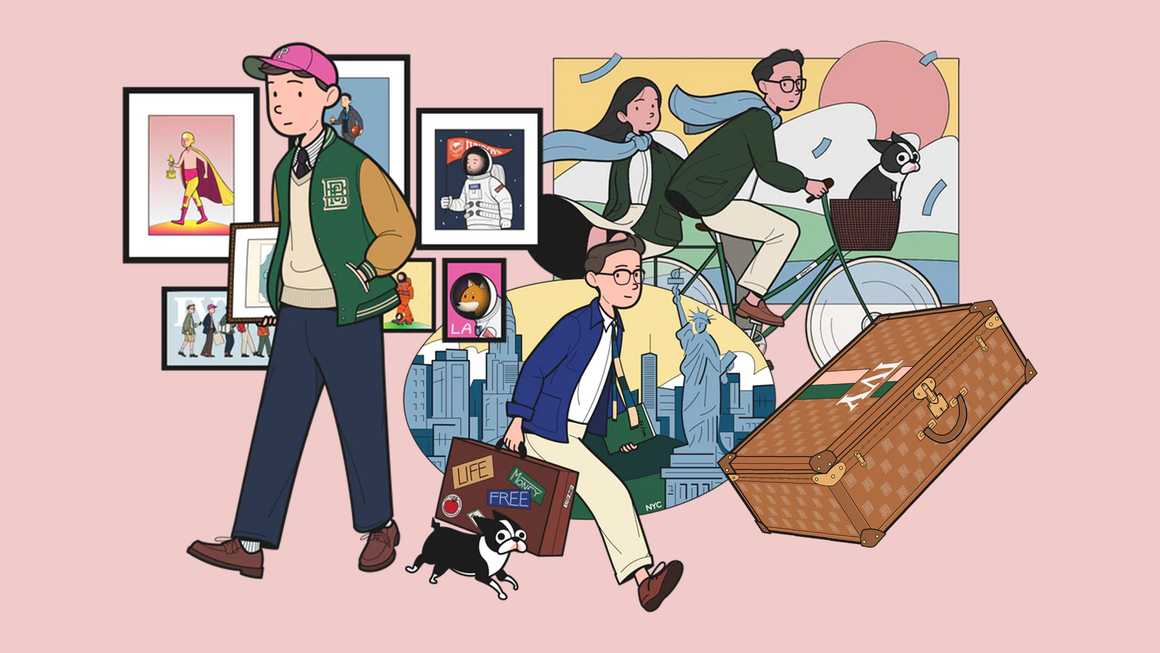 Fashion is rapidly taking over the metaverse. How do you think NFTs will fit into this in the near future?
Rodolfo: "Aside from creating digital wearables in the metaverse, I think it will be fun to see how holders will be able to receive real-life perks for wearing branded merchandise in Web3."
Andrew: "Imagine wearing your favourite shoe because you love it but also rewarded in virtual coins that you can then use to redeem IRL and free digital merch for supporting and repping your favourite brands on the metaverse platform. Imagine a world where physical merch links to an NFT that allows your IRL merch to be a portal for an augmented reality that you can experience on your phone. Each merch style offers a different world utility."
We saw that you have other projects in the works launching this year. Can you tell us anything about them?
Andrew: "Our genesis project is IVY BOYS. We just announced that our next project will be HeeDong and Friends, also illustrated by Aaron Chang. This project is positioned as life through the eyes of a dog named HeeDong.
Rodolfo: "It will be an NFT collection about a dog who lives, walks and dresses like a human. Like IVY BOYS, this is another dream of his that we want to help realise. In time, we'll reveal our other heroes, their names, and their stories, all of which have important sentimental meaning to Aaron. You can expect the same high-quality artwork, if not better, launching in Q3 this year."
So what's next for BBRC holders? Can you give us a clue about what contents are inside the free IVY TRUNK airdropped to holders recently?
Andrew: We will be announcing the contents of our IVY TRUNK airdrop during NFT NYC. The contents will be three unique items. The first is a mystery that we won't reveal for now. The second will be a merch pass that you can use to redeem a jacket that is split into three different tiers. The team jacket ($200+ retail price), the OG jacket ($600+ retail price), and the grail jacket ($1000+ retail price), all of which will be given to IVY BOYS and merch pass holders for free."
Rodolfo: "That is our way of rewarding our genesis project holders. Our upcoming projects will launch with respective branded clothing patches that holders can add to their jackets based on the projects they are part of. The third item is our BBRC Continental Coin which will have universal utility across the BBRC Universe."
The gallery party in LA looked pretty lit! What have you prepared for holders at the upcoming social event in NYC?
Rodolfo: "We hosted Aaron's first art gallery exhibition featuring BBRC x IVY BOYS NFTs and the first BBRC IRL event in Los Angeles. Holders enjoyed a night of art, fashion, music, and drinks. Music was provided by @briggs who is the creative director, songwriter and DJ who recently toured with Grammy-nominated American R&B singer Giveon."
Andrew: "Our second event is the BBRC x IVY BOYS New York party. This is one night in New York you definitely don't want to miss! We will celebrate a night of fashion, music, and drinks at The Fleur Room, a glass-surrounded lounge on the 35th floor of Moxy Hotel Chelsea with a panoramic view of the Manhattan skyline, from the Statue of Liberty to the Empire State Building."
If you're looking for more NFT news, check out some of our related articles below!


[ad_2]

Source link